At the end of the 19th century, thanks to many experiments started begun the 18th century by many scholars such as Alessandro Volta, Michael Faraday, André-Marie Ampère and James Clark Maxwell, electricity gradually replaced all the others lighting mediums in domestic and public spaces and overshadowed the petrol lamps and fire and gas lighting.
Indeed, Joseph Swan, in 1878, developed a revolutionary invention: the electrical bulb. In 1879, Thomas Edison improved the process and filed a patent for the incandescent bulb. Innovations progress during the 20th century: neon lamps were created in 1910 by Georges Claude, such as the halogen lamp, created in 1959 by Edward Zubler and Frederick Mosby or the plasma lamp, appeared during the 1970's in United States, etc.
Thanks to these inventions, lightings became interesting objects that could evolve in time following tendencies of architecture, decorative arts and then, design. As usual, trends and tastes were punctuated by reactions and counter-reactions, alternating periods of exuberant realizations with periods of more discrete and calm creations, which sometimes makes it difficult to give an overview.
However, it's not impossible to characterize the evolution of lightings creation since the 19th century. Indeed, at this time, a wide range of lightings was created thanks to the multiplication of materials, ways of production and industrial designers, even if their cost remained very high. Progressively, premises of "design" appeared and can be defined as the conception and realization of a product at the crossroads of art and technical innovation, exploring new contributions of technology while paying attention to different societal, economic, human and environmental issues.
Thanks to the industrialization, it was utterly during the interwar period that the production of the lamp took another dimension with the arrival of more universal systems, compatible with mass production. Aesthetical experimentations were strongly multiplied by the end of the Wold War II, drastically enlarging designers' freedom of creation, not really concerned by lightings ergonomic questions.
Following the evolution of techniques, behaviors and consumption trends, let's rediscover together, without the pretension of being exhaustive, evolutions and trends affecting the lightings production since the end of the 19th century.
Premises of lightings design
I. The first visual fantasies of Art Nouveau and Art Deco
The arrival of light bulbs created by Thomas Edison was the source of a real lighting aesthetic revolution. First electrical lamps were ancient gas or petrol lamps adapted to electricity. Their evolution, at the beginning of the 20th century concerns ornamentation and shapes.
Overall, lightings ornamentation goes along with the stylistic evolution of each period. Thus, during the rise of Art Nouveau style, lamps are frilled with vegetal and natural motifs such as dragonflies, flowers or mushrooms.
The Nancy School, founded by Emile Gallé, developed a decorative style inspired by nature, with bronze or wrought iron structures for lamps. Glass lampshades were sculpted in high relief, engraved with acid 1 or realized thanks to the technique of glass marquetry 2.
Nancy was not the only dynamic place: abroad, the English Louis Comfort Tiffany introduced beautiful lightings in interiors thanks to fauna and flora representations and its famous lampshades in stained glass with flowers and foliage motifs 3, realized by colored glasses 4. They lit rooms with their warm colours and offered beautiful interior decoration and a unique style.
A similar phenomenon occurred the following years during the Art Deco period, around the 1920's. This style, which can be seen in both architecture and decorative arts, also appeared in lightings and reduced the place and complexity of the ornamentation in favor of purity and simplification.
Indeed, after the ornamentation, lightings developments focused on shapes. These researches increased with years and strengthened during the 1920's thanks to the use of new materials. Those years, characterized by an industrial boom, permitted the emergence of steel and of pressed and molded glass. Some glassmakers gave transparency or an opalescent colour for their glass lamps, as René Lalique in his sandblasted glass Cardamine lamp. New materials significantly allowed artists and craftsmen to create simplified and functional shapes.
This tendency strengthened again in the 1930's and we can see late trends of Art Deco, essentially in the United States and then in France, called the "Streamline" style or the "style paquebot" (*boat style). This style reached its climax in 1937 with still noticeable consequences during the post-war design. It focused on the concept of aerodynamic shapes profiled for speed. Architecture and design were both concerned, and lightings in particular, for Streamline style was the first architectural style that directly integrates lighting, notably glass ones, in the own concept of a building. Lightings production was also involved with the creations of models of pure and tapered shapes, as the Executive Model n°114 lamp created by Walter Teague.
This research of purity and smooth shapes seemed announced the first modernist researches of the 1930's.
Emile Gallé, Lampe Glycines, vers 1925, MAD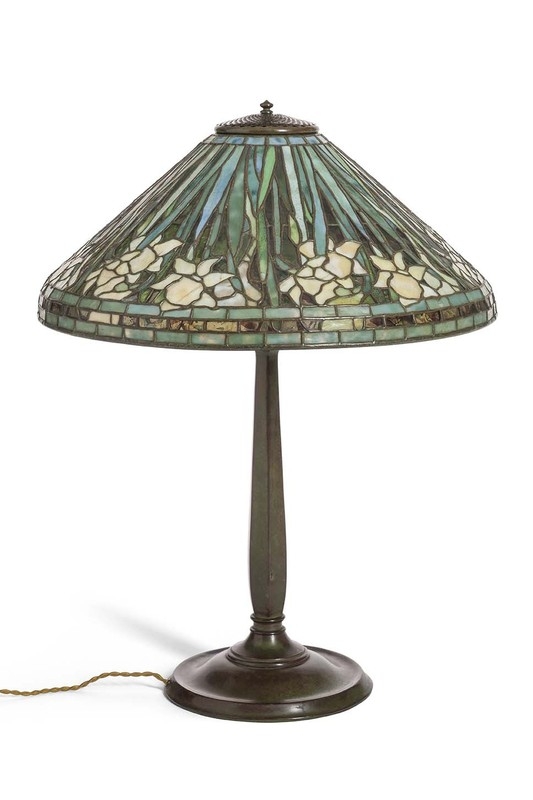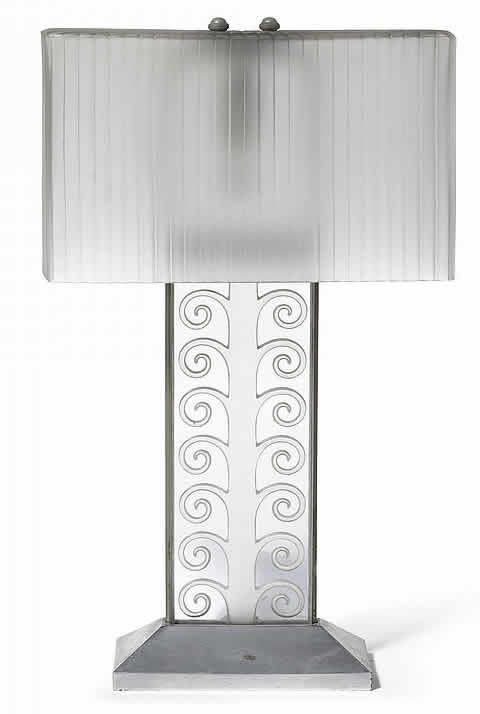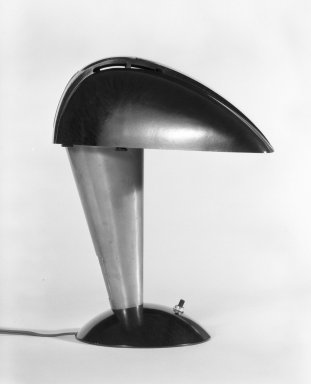 II. Modernism and beginning of the lightings industrialization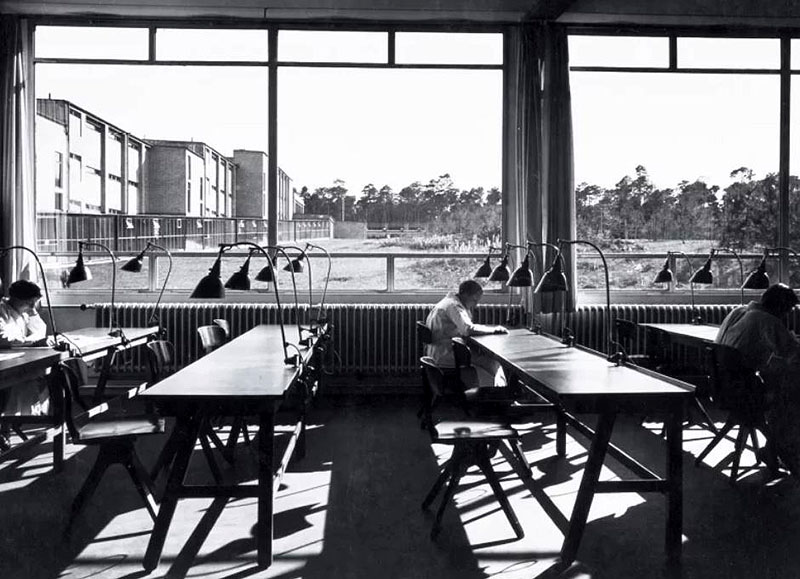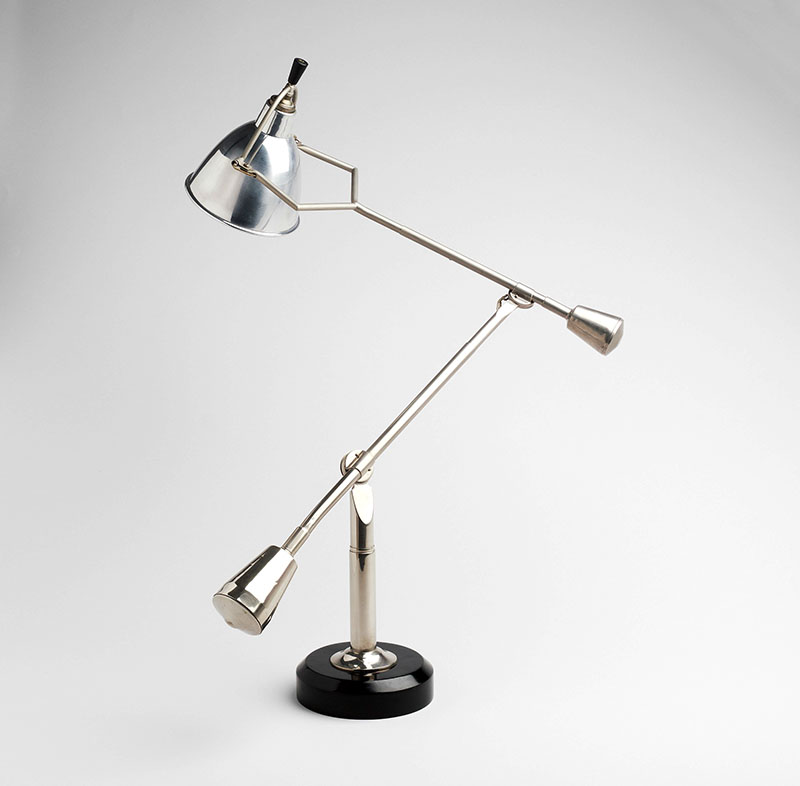 In the 1920's and the 1930's, lightings design was industrialized, with a small choice of colours and simple and geometrical shapes. Creations were standardized to handle in the same time mass production, but kept also a certain elegance. It was genuinely in this period that architecture and decorative arts became interdependent and many international architects-designers 5 , cantors of modern movement, were oriented to a research of pure shapes and functionality.
Architecture adopted functionalism, based on the famous sentence: "form follows function" 6, explaining that an item or a building spatiality, shape or aspect might derive from their primary function. These reflexions quickly attained design and in 1919, Walter Gropius founded the Bauhaus design school, in Weimar, Germany, to create furniture and objects for everyone thanks to a new and more functional and resistant design, inspired by constructivist 7 mathematical searches in architecture.
Thus, the work lamp Midgard by Curt Fisher influenced craftsmen of the Bauhaus ironwork workshop to make modern lightings. Moreover, this lamp was used in the Bauhaus furniture in Weimar and also in the Bauhaus Director's House in Dessau, when occupied by Walter Gropius, surely answering to the will of not decorative but functional models – here with a clamp and a movable arm 8. Those wills influenced a large part of international design during decades and many designers took over these principles, also in lightings area.
Some specific objects, as the work lamp for example, were developed and explored all possible materials and techniques. This lamp always kept a certain minimalism, a small colours palette and similar design with characteristic elements such as an adjustable arm and a narrow light field, which permitted to direct the light on a particular point. These recurrent characteristics didn't avoid innovations; indeed, in 1925, Edouard-Wilfrid Buquet created a new type of adjustable lamp: a counterweight model that was one of the most famous of this period.
However, all international designers didn't totally embrace the Bauhaus modernity.
The French design of this period kept some elements of the decorative arts tradition with items mixing modernism and taste for richness and ornamentation. Models were refined and use more luxury than industrial materials, like crystal or ceruse oak. Thus, the designer Jules-Emile Leleu created equally as minimalist lamps in glass and chrome steel, such as a floor light with an integrated glass table created circa 1930, as others in mahogany and silvered bronze.
Likewise, Italian design of the 1930's also trended toward an elite customer. Thus, Gio Ponti, Head of Fontana Arte, wanted to answer to the request of high-quality glass or crystal lightings. He mixed industrial aesthetic and picturesque detail, brightening his lightings by colours or fanciful shapes, at the origin of a full style, easily identifiable. The Bilia lamp perfectly illustrates this extravagance will with its steel conical leg that seemed to magically support the frosted glass spherical lampshade.
This flowering of different styles at the beginning of the 20th century herald the design expansion of the 1950's.
The lightings design outbreak
I. Post-war period, between austerity and new influences from elsewhere
The World War II had a large impact on 1950's design. The post-war years marked the use of new materials, new shapes and new colours after the forced austerity of the war. The need for rebuilding pushed designers to redefine borders of modern design, much closer to the consumer. Each country was differently impacted by the two world wars and since the 1950's we can see that each nation design acquired some distinct specificities.
Thus, American designers have focused on searching of audacious shapes thanks to new industrial techniques, as shown by the lamp Model n°T-5-G by Lester Geis, whose two lampshades could rotate to hide and to reveal light.
In France, the direction taken was different. Indeed, the government created in 1944 the Ministry of Rebuilding and Urbanism that introduced large rebuilding projects to solve the problem of resettlement of a country that suffered from plenty of destructions. By extension, people needed obviously also new furniture. Many French designers got back to modernity concepts set up in the 1930's to conceive sober and functional items made with efficient production techniques and simple and strong materials. Getting rid of the excess became necessary for a large series production and French designers tried to detach from the passed wealth of the decorative arts and at the same time to move away from the pre-war austere modernism. They created simple shapes and colours mixes, as Serge Mouille did for his series of lightings with black enameled steel lampshades white inside, supported by thin steel arms.
Not far from it, Italian design took flight after war and became the world design leader. Great industrial manufactures called avant-garde designers to create pieces that took the first place on the front of international scene. While other countries were based on rationalisation of production, Italy saw the development of initiatives of experimentation and manufacture of new and original objects. Designers created fanciful, slight, exuberant lamps, with coloured lampshades and shapes influenced by the contemporary sculpture. The lamp Model n°534 by Gino Sarfatti answered to this madness of post-war Italian design with its multicoloured lampshades that can be angled in many positions.
Two more countries came on the front of the international scene of design: first of all Denmark, proposing a modern design, poetical, rigorous and pleasant and with a low price. Thus, the chandelier PH Artichoke created by Poul Henningsen has a very decorative aspect thanks to its round shape constituted by rectangular slats, and warm thanks to its copper colour.
Second Japan: Japanese designers renew their original repertoire by drawing in the occidental design newness, creating a hybrid unique style. Thus, the Akari lamps of Isamu Noguchi had abstract and pure shapes, close to origami art and occidental art 9.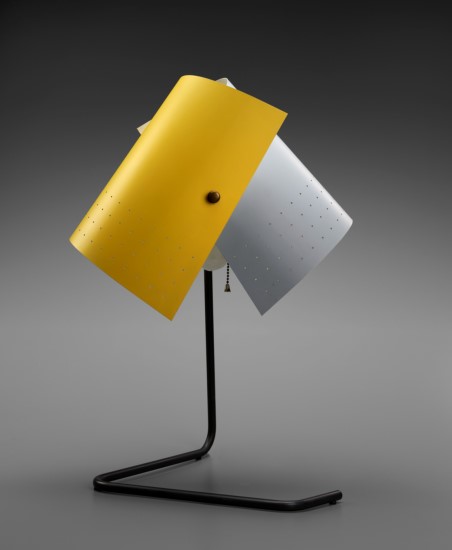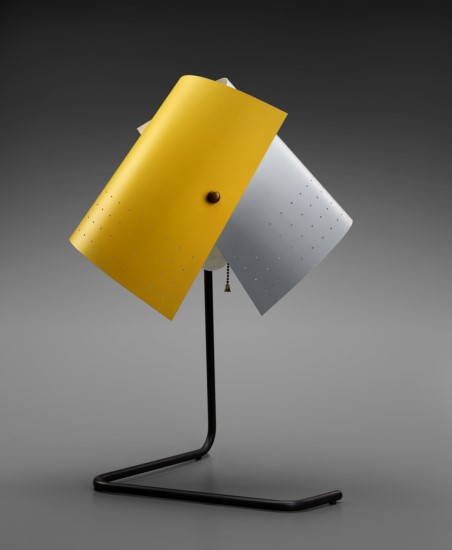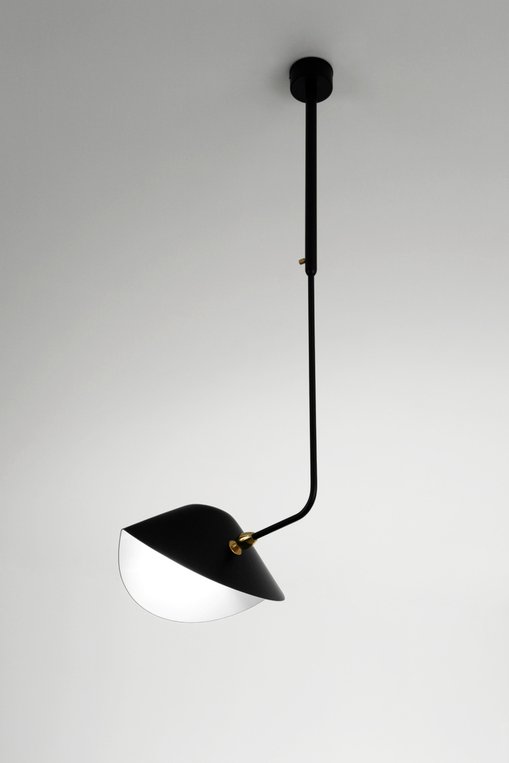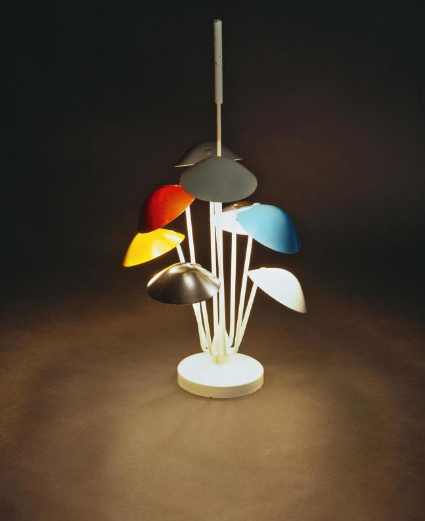 II. The new conception of freedom in the 1960's and 1970's
Joe Colombo, applique et lampadaire Alogena, 1970,©Photo Les Arts Décoratifs, Paris/Jean Tholance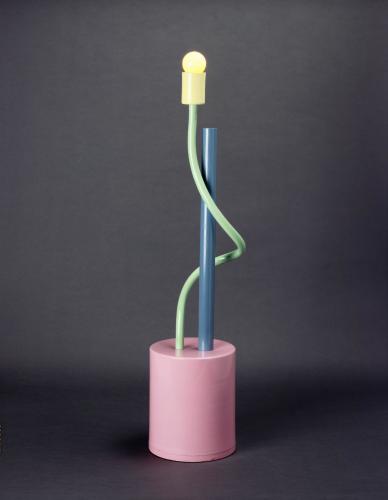 The aspiration for change and freedom was strong in the 1960's and was perpetuated in the 1970's. The austerity of war and post-war was over and the trust in future took over. Designers rejected the modernism of the 1930's, for it didn't match anymore with the request of a larger number of consumers that wanted a change and a larger variety of objects. Moreover, the sixties generation wanted their own identity, far from their parents' generation, that knew the war. The mass consumerism appeared at this period and designers competed in creativity in order to reach the young generation; the design was no more at the service of functionalism but of aesthetical.
The 1960's design wanted to be inventive, leaving place to roundness and colour: the Pop Art 11 period began! The Danish designer, Verner Panton, was one of the greatest representatives of this design and created lightings with curved shapes and vivid colours as the Topan chandelier or the Kugel-Lampe chandeliers. His Pop sensibility let him create a new quality of life thanks to interior design by freeing imagination and by creating a playful design.
The other distinctive element of the 1960's concerns materials: new materials appeared and let designers be free from the physical constraints of creation. Plastic was raised as a main element and its use was democratized also in lightings manufacture. Researches about thermoplastic and optic properties of this material were done to create, for example, the table lamp Model n°281 Acrilica in moulded C shaped acrylic by the Italian Joe Colombo.
Moreover, Italian designers also succeeded in "cleaning" plastic from its cheap and unattractive product reputation to create captivating pieces. Thus, the shape-borrowing was frequent, however, they were revisited, recreated, resized to serve to another function and called into question our original perception, as the Pillola lamps of Cesare Casati and Emanuele Ponzio, which picked up the shape of bicolored expanded pills.
The 1970's extended the reflexions started in the 1960's and were marked by the diversity of postmodern condition 11 and creation and also the spotlight of the singular identity of each designer, making difficult an exhaustive presentation of all researches and experimentations of this period. The maddest creations took place in this new living art that mixed provocation and claim of cultural and social freedom where colours, shapes, materials, arts mixes continued their experimentations.
Thus, lightings can tend, for example, to the high-tech area, with futurist visions as the Joe Colombo's one, who imagined entirely modular furniture as the Alogena lamp in three versions: lamp, floor lamp or chandelier.
Italian designers didn't hesitate, in many cases, to move towards shapes and colours excesses. Thus, Ettore Sottsass, founder member of Studio Alchimia 12, tended towards freedom of expression with ironic and quirky lightings. In the same vein, Michele de Lucchi took fun of the functional design by using distortion to go away from the original function of the item. He wanted more to create a strong image of a product than to answer to lighting problem: the Sinerpica lamp, with its vivid colours and shapes reminding a creeper, went far from functionality.
At the end of the 20th century, the diversity of styles, designers and new researches about modernity, ecology and new technologies created infinite possibilities in design that will be explored in the following decades.
The design as a standard: from the 1980's until today
I. A plurality of styles
The 1980's extended researches started in the 1970's about postmodern condition. There were no longer hegemonic trend but a plurality of personal initiatives and a shift gradually operated: designers themselves were put on the front scene without any movement. Only Italian designers seemed to stand out as a cell with the Memphis Group 13, whose will was to create a coloured, humoristic design, with original and unstructured shapes. The Super lamp by Martine Bedin was a funny and polychrome model that invited the user to an interaction with the creation thanks to functional wheels.
In a general way, many designers didn't hesitate to take their inspiration from the past to create a "neo-decorative" design. Philippe Starck, for example, renewed the tradition of French decorative arts according to a personal modern historicist approach: its Haa lamp reminded the candlesticks from… the 18th century!
In his own way, Borek Sipek turned to a "neo-baroque" style giving a great importance to craft work: the exuberant and glint Luigi chandeliers were composed with stylized floral shapes reminding Art Deco chandeliers or the creations of 17th century Murano glass.
The idea of going back to tradition concerned principally materials, such as earthenware, bronze or wood and the creation of limited series or unique pieces had probably a similar purpose. Indeed, designers free from industrial constraints used materials that satisfied luxury expectations of some elite customers. Thus, the Maison Charles 14 lamps, as the model Water leaf created by Chrystiane Charles, all in bronze and brass from the base to the lampshade, with its several possible patinas, perfectly matched with these criteria and adorned the most beautiful and luxurious French houses.
Polysemy of styles and trends, started during the 1980's, didn't decrease in the following decades, on the contrary, the design was everywhere: appliances, food, alcohol, electronic, car, furniture… The purpose was to seduce more consumers, to improve the ergonomics of products and to boost sales that slowed after the "orgy " 15 of the 1980's.
The 2000's were characterized by a profusion of styles and trends, a sort of new eclecticism after the years of the modernism hegemony of the Mid Century design. Initiatives were varied, and oscillate between two tendencies: a hyper democratisation of design, or imitation design, accessible to the largest number of people with a low price in leading stores, and a hyper valorisation of some creations or designers, whose ratings explodes!
IKEA company is the perfect example of this popularisation of design with prices as to undercut all competition (some twenty euro) as for example the chandelier Brunsta/Hemma available in two sizes, easily constructed and with a geometrical contemporary design.
On the contrary, some designers, as Matali Crasset, created lightings for big design brands, as Roger Pradier, less accessible for the general public. Thus, his collection of exterior lightings called La Hutte, gave a large choice of colours and three versions of this lamp but with a higher price (few hundred euro according to the model).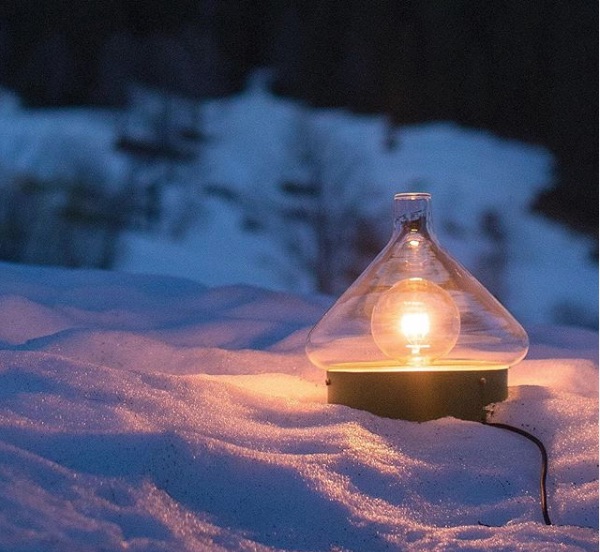 II. Postponed technological limits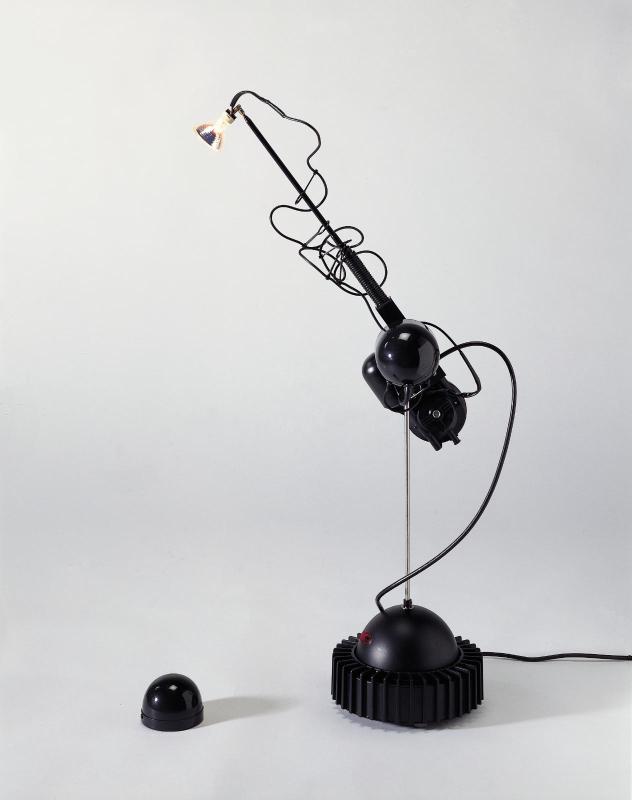 Initiatives focused on new technologies appeared, as the biomorphic design, as purely decorative: items seemed to live, in a dream world, thanks to soft and poetic shapes. Thus, Ayala Serfaty lightings were inspired by natural shapes as medusas, shells and flowers, exploiting new technical possibilities, such as the use of polymer or a weave of glass filaments. And again, the Aerial Light E23 lamp by the designer Ron Arad was inspired by cars' antennas and might be rotated and remotely controlled.
For some years, some designers totally associated their creations to new technologies, such as the 3D print. For example, a lamp invented and manufactured by the Canadian industrialist Samuel Bernier was inspired by an ancient shape, the Eiffel Tower, but used modern technology for production.
In a similar way, the American artist and designer Bathsheba Grossman also created a series of lamps with complex shapes by using the computer-assisted conception, the three dimensions modeling and also the technology of print on steel.
All these new technological advances let designers postpone limits of creativity thanks to infinite possibilities to create new shapes.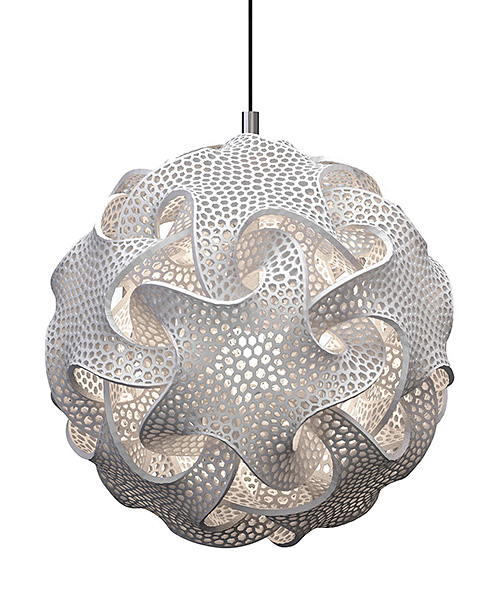 III. Renewal of preoccupations
In this cohort of styles that characterized the 1970's design, it yet existed a point that gathered many artists and designers: the awareness of the necessity of recycling and, on a larger scale, the protection of the environment. It first began in reaction to the massive use of plastic in the 1960's and then the petrol crisis in 1973. Several researches on ostentatious consumption patterns were taken to create a link between design and environment. Researches were initially oriented to the use of recycled materials, then they were enlarged to all the characteristics of each object.
Thus, appeared the low design in the 1990's, that was characterized by restraint and purity of shapes and colors also using fun shapes far from their original use. Thus, the company Droog Design created the Milkbottle chandelier composed by reworked glass milk bottles.
Moreover, in this same way, creations in limited series or on unique piece were multiplied in reaction to an unbridled consumption pattern of the past decades. Thus, Ingo Maurer picked up an aluminum tin can of the Campbell's to create the Canned Light chandelier or wall bracket.
The endpoint of these researches is probably the eco-design, very committed. Its purpose is to create items respecting the environment, sustainable development and using sustainable or recycled materials such as cardboard, bamboo and steel. Indeed, the Kikidesign designer realized lightings using recycled materials, as the Miss Luza Bomba lamp created thanks to an ancient melt pump. This is apparently one of the strongest tendencies of the 2000's that aren't ready to weaken now, when concerns about nature and our future are increasing.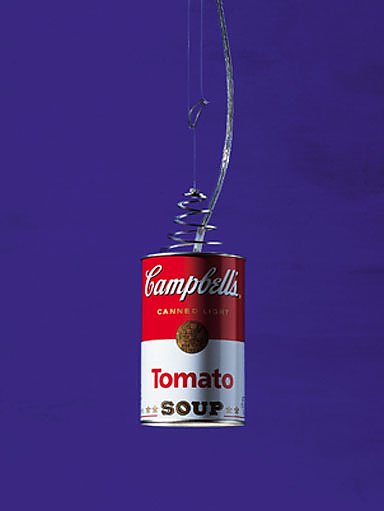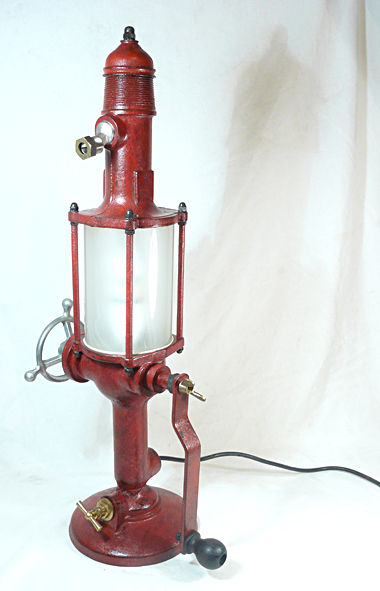 There is no more hegemonic rules and the variety of models available and of price ranges confirm the ambiguity of design: between everyday essential accessible for all and luxury object of desire, today lamps, but also furniture and decorative arts at whole show significant variations.
↑1 The decor is drawn on the item thanks to a bitumen varnish. Then the piece is plunged in an acid bath that bites the unprotected parts. The bitumen mat motifs contrasts with the engraved and more transparent parts. The light effects changes as per the bath concentration and immersion time. Detailed notice online on the website ID VERRE, "Marqueterie", http://www.idverre.net/encyclo/technique.php?id=38 [page consulted le 21 mai 2019].
↑2Ibid. Technique invented by Emile Gallé and patented in 1898. The decor was no longer created by engraving but by the insertion of coloured glass pieces, put on the parison and then worked to integrate elements in the glass.
↑3 A large number of Tiffany motifs (flowers and dragonflies) were created by Clara Driscoll, who worked in the workshops for more than 20 years.
↑4Tiffany created an opalescent glass with various shades and textures thanks to metallic oxides that gave it a kind of iridescence. In 1894, he patented the « Favrile » glass. The name is derived from an English term of the 17th century, "fabrile", meaning "that belongs to an artist or an art", reminding the important place of craft in this period. See the original notice online on the Musée d'Orsay website, URL= https://www.musee-orsay.fr/fr/collections/oeuvres-commentees/arts-decoratifs/commentaire_id/vase-417.html?tx_commentaire_pi1%5BpidLi%5D=846&tx_commentaire_pi1%5Bfrom%5D=843&cHash=3c8e0beb0a, [page consulted le 21 mai 2019]
↑5At the early 20th century, many architects' researches spotlighted simplicity and functionalism to sober things and detached them from the past ornamental tradition. On the first one and the most famous research was made by Adolf Loos in 1908 who published in Vienna the essay Ornament and Crime in which he denounced the ornamentation in favor of functional architecture. Adolf Loos also advised to "research the beauty only in the shape, to not let it depends from the ornament" and many other architects such as Le Corbusier or Mies Van der Rohe followed its precepts.
↑6The American architect Louis Sullivan was the first to use this famous expression: « form ever follows function » which became the Bauhaus motto. This sentence showed his will to go to the essential by avoiding superficial ornamentation. We can also associate this quote to the famous « less is more » of the German architect Mies van der Rohe, who was director of the Bauhaus between 1930 and 1933 and who was known for his taste for pure things, in a minimalist spirit.
↑7The constructivism was an artistic movement born at the beginning of the 20th century in Russia and represented by artists such as Vladimir Tatline or Alexandre Rodtchenko. Built on bases that gravitated around cubism and futurism, the constructivism was a reaction to ancient order and grew in parallel to the suprematism of Kasimir Malevitch that proclaimed a geometrical construction of space where every element possessed its own dynamic. However, there was no clearly defined aesthetical program, so the admission of certain artworks in this movement is quite flexible.
↑8v. C. & P. Fiell, 1000 lights, Taschen Bibliotheca Universalis, Cologne, 2015, p.131
↑9Isamu Noguchi was the assistant of the Romanian sculptor Brancusi, from 1927 to 1929. The minimalism of its artworks surely inspired the designer for its series of Akari lamps, notably the Endless Column. V. S. Hodge, Pourquoi est-ce un chef-d'œuvre ?, Eyrolles, 2014, p. 187
↑10LThe Pop Art was a cultural movement of the 1960's that was inspired by the development of the consumption society. It challenged traditions by spotlighting the mass production to touch the larger public ever. Pop Art was "popular" thanks to its simple and accessible shapes and created a new colorful language, inspired by advertising.
↑11 S. J.-F. LYOTARD, La condition postmoderne, Éditions de Minuit, Paris, 1979. This book popularized the "postmodernism" concept, defined as a rejection of great stories, great heroes and social-economical ideologies. This essay was not the first one to talk about postmodernity because this theory was promoted since 1977 by Charles Jencks, cf. C. JENCKS, The Language of Post-Modern Architecture, Academy Editions, 1977 that replaced the architecture in a general history of artistic movements and encouraged a return to past shapes and motifs. Postmodernism was expressed through varied tendencies in both design and architecture with the vernacular, historicism, late modernism or also the deconstructivism.
↑12Studio Alchimia was founded in Milan in 1976 by the architect Alessandro Guerriero and exhibited experimental creations refusing the industrial manufacture. Artists and designers such as Ettore Sottsass, Alessandro Mendini and Michele de Lucchi, took their inspiration from pop culture and wanted to ridicule the "good taste" pretentions in design. Part of the second wave of the Italian Radical Design, these designers were politically engaged and elitists in there intellectualized creations. See C. & P. FIELL, Design du XXe siècle, Taschen Bibliotheca Universalis, Cologne, 2018, p. 32
↑13Memphis Group was founded in Milan in 1981 to revitalize the Radical Design movement. Martine Bedin, Marco Zanini or Aldo Cibic joined ancient designer of the Studio Alchimia. For their creations, they were inspired by futurist themes or past decorative styles to produce small series furniture. They used coloured stratified plastic to create eccentric furniture with hybrid themes giving birth to a new vocabulary of post-modern design. See C. & P. FIELL, Design du XXe siècle, Taschen Bibliotheca Universalis, Cologne, 2018, p.461
↑14See our blog article about the French Maison Charles, here.
↑15Cf. J. BAUDRILLARD, La Transparence du mal, Grasset, 1990. The sociologist and philosopher Jean Baudrillard wrote in this essay that since the 1970's, "all has been released" but asked a question, characterizing the postmodern condition: "what do we do after the orgy?".
SOURCES
Bibliographie 
J. BAUDRILLARD, La Transparence du mal, Grasset, Paris, 1990,
A. Bony, Meubles et décors des années 70, Éditions du Regard, Paris, 2005
A. Bony, Meubles et décors des années 60, Éditions du Regard, Paris, 2003
C. & P. FIELL, 1000 lights, Taschen Bibliotheca Universalis, Cologne, 2015
C. & P. FIELL, Design scandinave, Taschen Bibliotheca Universalis, Cologne, 2015
C. & P. FIELL, Design du XXe siècle, Taschen Bibliotheca Universalis, Cologne, 2018
S. HODGE, Pourquoi est-ce un chef-d'œuvre ? 80 objets design expliqués, Eyrolles, Paris, 2017
C. JENCKS, The Language of Post-Modern Architecture, Academy Editions, 1977 [ Traduction française : Le langage de l'architecture post-moderne, éd. Denoël, 1979]
J.-F. LYOTARD La condition postmoderne, Éditions de Minuit, Paris, 1979.
J. DE NOBLET, Design, miroir du siècle, Flammarion/APCI, Paris, 1993
F.-T. CHARPENTIER, P. THIEBAUT, Gallé, Edition R.M.N, Paris, 1985
A. DUNCAN, G. DE BARTHA Georges , Gallé-Le Verre, Bibliothèque des Arts, Paris,1985
Webographie