Christel Sadde x JLF Antiquités
Sometimes at JLF Antiquités, we exhibit contemporary artists. If Valérie Courtet exhibits her glazed sandstone animals for years now, Christel Sadde joined us in December 2018 with some primary pieces and the collobation continues in may 2019 for the event created at the occasion of the Spring of les Puces de Paris Saint-Ouen called « Un Marchand un Artist »(* One dealer One Artist) : during a month, all antique dealers from the Biron Antique Market choses a contemporary artist they love and they dedicated to him/her a selected place in their boutiques to highlight the artist's pieces.
For the 2019 edition, we choose Christel Sadde and her fascinating work of mobile and stabiles sculptures called « Volabiles ».
Christel Sadde (1968) is a French artist who began her career in graphic design and then developed a passion for Calder. She began to draw mobiles inspired by geometrical abstraction and kinetic art. In 2003, she created her company Volabile following to an order of 50 mobiles by the Sentou Gallery. More recently, she began to create "stabiles", sculptures on solid base where small mobile were hang. Her artwork is considered as decoration items and also as geometrical, aerial and shiny.
Christel's work is represented in numerous international galleries and is selected for the decoration of the most famous luxury boutiques: Hermès, Chaumet, Cartier, Roger Vivier etc.
Some of her pieces pay tribute to major artists of the 20thcentury such as Vassily Kandinsky, Kasimir Malevitch or François Morellet. All her pieces are in limited edition, all signed and numbered. Here are some examples of the tribute series: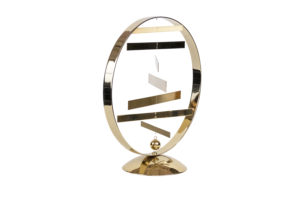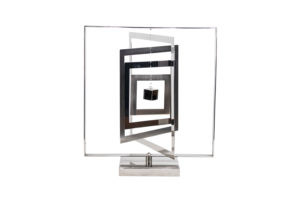 Christel mainly works metal, with a preference for aluminum, brass and palladium with several finishes, varnishes and colors. Her sculptures, alive, call us to touch, they're playing with the wind or people around them, and they bring poetry and lightness.
Below are pieces elaborated on the theme of the 4 seasons: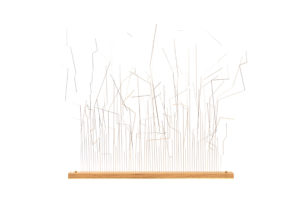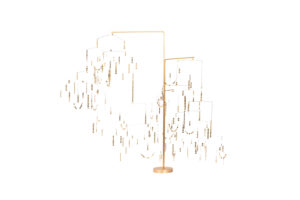 Because a picture is worth a thousand words, we realized a short video to better introduce you the work of Christel Sadde. (EN subtitle available).
France 2 (French TV) also covered the event in the Paris Antique Market in her emission « Télématin ». The reporter Mélanie Griffon came to visit our shop and met Jean-Luc Ferrand for the occasion to better discover the work of Christel Sadde. You can watch again the reportage just below.
For any further information about Christel Sadde or her work, you can reach us here.