The Term "Les Puces" is a French name, almost equivalent of a flea market, but referring to a specific antique Market in France, in the Saint-Ouen city, probably the most important Antiques Market of the world with the high quality of second-hand furniture, antiques or vintage, and also many art objects.
At the 19th century, Saint-Ouen was only a small village of 1000 inhabitants, close to Paris border: how did it became, in less than a century, « Les Puces », this amazing place dedicated to Antiques and Decorative objects business, 4th place the most visited in France with 120 000 visitors each weekend?
When we take a deeper look at the history of the Saint-Ouen city, the addition of several reasons explains the extraordinary destiny of this small agricultural city which became the "cellar of the world", the best place for all furniture and art objects collectors!
Indeed, Saint-Ouen was a very dynamic place in the 19th century. It gathered many Parisians each weekend thanks to many different activities. To this previous presence was added, by a kind of hazard, the enforced presence of a profession under construction: the antique dealers. Those two factors combined have changed Saint-Ouen in an inescapable place, till today: Les Puces de Paris Saint-Ouen!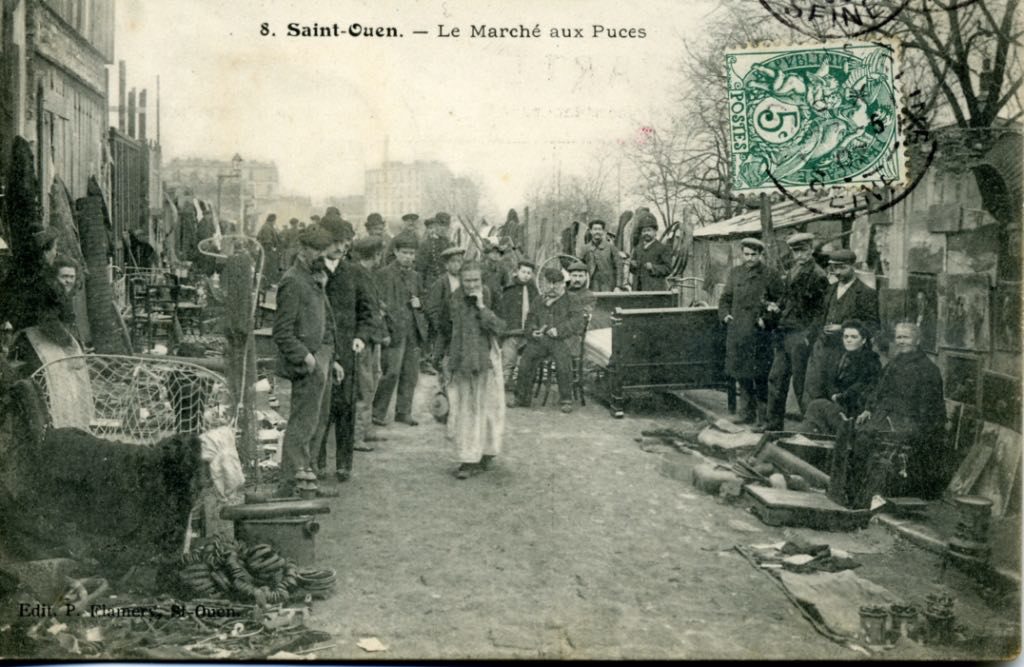 Saint-Ouen, a small pleasant village
At the 19th century, Saint-Ouen village, at the gates of Paris, was extremely well served by public transportations and was a place very appreciated by Parisians that we're used to going there every weekend to go for a walk outside Paris' walls to relax.
Indeed, Saint-Ouen offered to Parisians an exceptional green oasis. Its island, near the Seine border, allowed everybody to do canoeing, fishing, doing some picnic and other pastoral activities.
Beyond this pleasant environment, Saint-Ouen gathered a fun atmosphere, rich in activities. Indeed, a racecourse was inaugurated in 1880, on the field of Saint-Ouen castle and knew a strong success and all its increasing events attracted a crowd of passionate, horses' amateurs or only simple onlookers.
Weekend visitors found in Saint-Ouen a convivial and joyful quality of life. They came to taste in cafes, restaurants and French "guingettes", fried fishes served with the special white wine of Saint-Ouen, on the accordion's sound! And yes, Saint-Ouen produced its own wine; it is said that this wine was appreciated at Kings' table since the 13th century! Beyond this atmosphere and special meals, Parisians also came to find cheaper commodities than in Paris. Indeed, a tax named "l'octroi" (*grant) charged goods entering in Paris; came to Saint-Ouen, outside from Paris, allowed to save some money and did really encourage the tourism in Saint-Ouen!
All these fun activities and many others, such as charity parties, balls, open sky music concerts, swimming competitions, football, children's games and without mentioning the Paris' Suburbs Exhibitions highlighting the know-how of emerging industries settled in Saint-Ouen have been always supported by the Saint-Ouen municipality, and sometimes organized by it. They, of course, played a role in the building of the reputation of this village and in its development, always increasing all along the 19th and 20th centuries.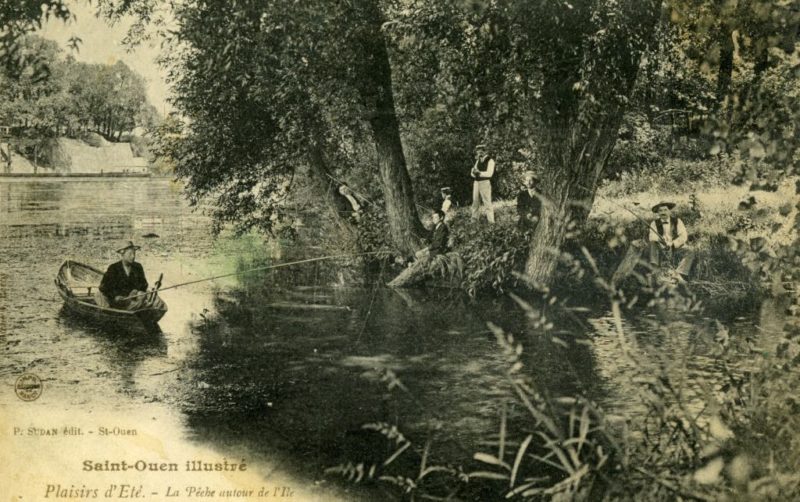 The creation of the antique dealer job
To well understand the second reason that made of Saint-Ouen the bigger Market of furniture and antiques in the world, it's needed to go back in time to discover some French traditions. Actually, one, in particular, was capital: the one allowing poor people the right to sell and do business in some places with things picked up here and there. From this tradition, the job of the collector is born, mostly in big cities with a lot of inhabitants and a huge quantity of scrapped objects.
First chaotic, this job slightly organized itself in a real organized industrial branch, an important human that represented an important sales revenue in the 19th century!
At the bottom of the chain was "The Burglar", the "thief" or also "the moon fisher", called so because he was browsing Paris' streets by night, lightened by the moon. With a large wicker hood, a lantern and hooked stick, he was walking on the streets to look for scrapped objects to pick them up before the street-cleaning service. When his hood was full, the burglar went to The Sorter, also called the Small Ragman Master, who was buying, sorting and storage items collected in hoods. Once the sort was realized and the full amount of material – such as rags, paper, glass, leather, bones – judged enough, the Sorter negotiated his collection with the Great Ragman Master, wholesaler of recyclable material aimed to be sold to the industries.
It seems that the job of the antique dealer was born thanks to this first original activity and slightly became more specific and gained its own identity. Antique dealing wasn't only just picking up items on street, but a rigorous selection of second-hand items with enough value to be re-sold later, properly.
Even if burglars and antique dealers are different, first they were considerate all the same and that's why they had the same first destiny when the Paris prefect decided in 1870 to kick them out of Paris' walls and settle them on the military zone for public hygiene and neighborhood reasons.
Indeed, a military zone existed around Paris since 1845, built by Adolph Thiers, Interior Minister under Louis-Philippe. Those fortifications were supposed to protect Paris and were doubled, in their outdoor part, by a raved non-building military zone of 300 meters wide and protected, all along, by headquarters. The development of military aviation and its weaponry made this military belt totally useless. Anyway, it was not useless for everybody and antique dealers and burglars took advantage of it! This was how they reached this special place in Saint-Ouen, stuck between Paris and fortifications, and they settled more particularly Porte de Clignancourt, Montmartre or Saint-Ouen.
Even if they were poorly housed in wood barracks and weren't authorized to improve they housing condition, they quickly took advantage of this strategic position and the important amount of people stopping by Saint-Ouen every end of the week. All those rich Parisians that stopped by to chill and relax were a great opportunity for retailers, and Saint-Ouen built its own destiny, reputation, and richness on it!
The building of the actual Puces de Paris Saint-Ouen 
The illumination happened but it was necessary to nurture this development. Indeed at the late 19th century and early 20th century, Saint-Ouen was in the middle of an industrial boom and its demography exploded. It became urgent not only to find accommodations for laborers but also to find a solution for all the retailers inherited from the former burglars, kind of invasive.
The social population of Saint-Ouen evolved and the small village became a real and strong city, so it's imperative for the municipality to find urban solutions.
That's why all along the 20th century many antiques markets blossomed, mostly on the Rue des Rosiers, both by private sponsor than by municipality initiative.
All those projects tried to answer to the Saint-Ouen inhabitants and retailers needs. They shaped the actual face of the Puces de Paris Saint-Ouen and created the Puces like they are today: the biggest gathering of antique dealers in the entire world!
Biron Market, Dauphine Market, Paul-Bert Serpette… all those names are maybe unknown for you but they're referring to several antiques market of les Puces de Paris Saint-Ouen, some of them are here for many years now! Each market is unique, and proposed different specialties, periods and atmospheres.
If you're curious, you can subscribe to our newsletter to receive our blog articles. In the weeks to come, we will propose you a detailed description of the different Markets that you can visit in les Puces de Paris Saint-Ouen. We will give you also professional advice to enjoy the best way your visit in les Puces, make the best deal and find furniture or art object that you need and that can make you dream!
In the meantime, enjoy les Puces from your home and visit our online boutique!
Nouveau chez JLF Antiquités…