The Usine Market
The Usine Market is an antique market regularly forgotten. It's located in the middle of the Puces of Paris Saint-Ouen and we are offering you today to discover it! But just before started, let's have some reminder about the Puces.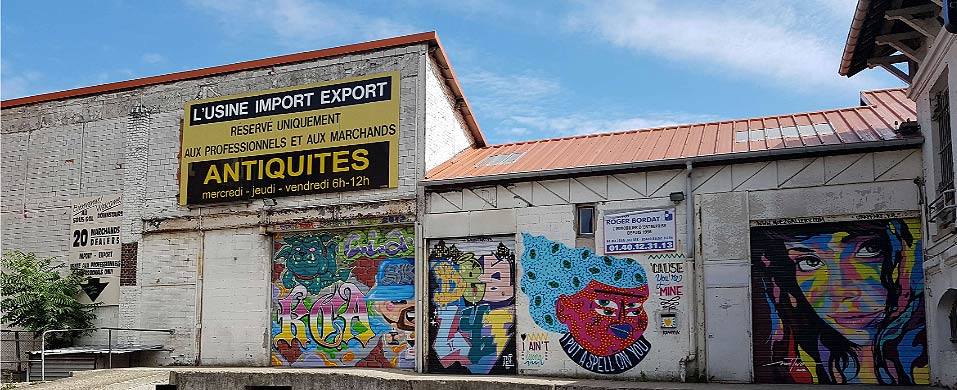 If you're Parisian, or more probably, are visiting regularly Paris, maybe you know that a unique place exists at the doors of the 18th district : the Marché aux Puces. There is no real equivalent in English for this name, frequently you'll find the literal translation of les Puces by the « Paris Flea Market » but be careful to make no mistakes: Les Puces is not a simple flea market, it's an historic place (if you have interest in this part, we wrote an article about the story of les Puces de paris Saint-Ouen here). Les Puces are precisely located in the Saint-Ouen city (93) and easily reachable by metro (lines 4 and 13, see a general map).
At les Puces you can indeed buy vintage and antique pieces, second hand items, but this isn't equivalent of the flea market of a city on a Sunday : Les Puces are a top range antique and furniture market, even the biggest place for that in Europe. Decorators, Interior designers, architects, particulars came from the entire world to purchase furniture here.
The name les Puces of Paris-Ouen refers to the gathering of several independent markets in a same geographical space: they're called Biron Market, Paul-Bert market, Serpette Market etc. and they're all around the main street: the Rue des Rosiers. Les Puces are a real little district, with its good addresses, restaurants, craftsmen and boutiques!
Each market inside les Puces is known for its specialties: clothes for Dauphines, unbelievable small treasures in Vernaison, design in Paul Bert, top range furniture in Biron etc. But even for connoisseurs, a market remains unknown: it's the Market called l'Usine !
This name in French is a little bit confusing, (Usine is the French word for Factory) so sometimes people thinks that in this place there will be only new objects. It's a false thought; indeed L'Usine is a real vintage and antique market.
The other point that can explain the Usine is not so well known is that the Usine is running at the opposite of the other markets : the Usine is closed the weekend and opened during the weekend, so you'll never meet the Usine during you Sunday walk in Les Puces, the doors would be closed..
It's such a shame this market is not more known: it's a precious place, mostly dedicated to dealers and interior designer to get wonderful pieces with a trade price. And if you're not a trade, you can come and purchase here anyway! You will find anything from antique to modern furniture or art objects. It's the perfect place to make good deals and find what you didn't found eslewhere!
At JLF Antiquités, we have a showroom at l'Usine but we also have our office there. Jean-Luc Ferrand, owner of JLF Antiquités, introduced you this wonderful place in video (English subtitles).
You can have a look at the website of the Usine market : http://usinesaintouen.com/
Only one condition to discover the Usine Market: well respect opening days and hours !
Boutiques are open on: Wednesday, Thursday, Friday mornings, from 8:00AM to 12:00 AM.
Where ?
Marché l'Usine – The Usine Market
18 rue des Bons Enfants,
93400 Saint-Ouen
See the map
At JLF Antiquités since we have our office at l'Usine, you can also come and see all weekend between 9 :30 AM to 6 :00PM. Come see us, have a look to our items or just say hi !