An invation to touch – Interview with Valérie Couret
Through eyes and fingertips Valérie Courtet's sculptures should be considerate. This invitation to touching proposed by the French animal sculptor has an artistic identity, firmly original and pioneering. Her creations, exhibited in our boutiques, spark visitors' interest. In order to consider what is actually behind each animal sculpture, we propose you a meeting with Valérie Courtet.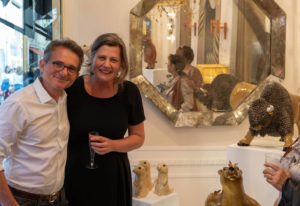 Valérie Courtet and Jean-Luc Ferrand in his boutique, surrounded by artist's animals ! Crédit ©Marché Biron
Animal specialization
When she was a child, her father came back from Kuergulen Islands, where he had been for three years, with many snapshots of the pure nature of this place. It's at this time that Valérie Courtet gets acquainted with animals from another hemisphere. Antarctic elephant seals and emperor penguins fascinated her, and then became an embodiment of a certain exotic: synonym of a dreamlike « elsewhere ». The first part of her life with a marketing and communication background was stopped when she discovered by chance the art of pottery. The first modeling work arrived in the wake of pottery classes. The enameled finish instigates a desire for technical specialization. « Covering my animal with a skin-glass », that it was Valerie Courtet's ambition. She was trained of one year at Longwy's Manufactory in Saint-Jean d'Aigle.
Nowadays recognized as an animal sculptor, she explored before other subjects. She exercised modeling busts but she feels compelled to represent figures of men of power with all their attributes. By contrast, animals without any frills reflected a kind of softness really enjoyed by the artist in her sculptures.
The choice of sandstone and enamels
In order to approach this softness issue, the sandstone's choice as a favorite material was significant. Indeed, it is extremely resistant and lenient. « It forgives all my mistakes » she confides to us with humility. This particular finish of her creations is due to a first biscuit firing at 980 Celsius degrees on which enamel is applied and firing again at 1280 degrees. As a manufacturer of its own enamels, she proposes a personal enameled technique interpretation with some surprises sometimes. In fact, the gloss finish invites to touch and enamels bring vitality to sculptures.
This technique finds its own blooming on animal's forms and especially on exotic animals like orangutan, hippopotamus and pelican. An unfamiliar animal's compendium that arouses the fascination and is also the result of an European-exotic vision. To give us a concrete vision, Valérie Courtet reminds us an anecdote about an order for a pig sculpture. She used to carve pigs as Vietnamese pigs, with a black coat, but a Chinese client wanted a pink European pig as a symbol of her Asian exotic vision.
Feathers and fur
The finish and the nice round lines reflect her own artistic identity and convey her « hand that naturally registers the curves ». According to the artist, her creation is based on her life vision: « Nature doesn't produce straight lines, life is contorted, never straight ». The artist refuses to make a smooth sculpture. She rejected the Pompon's point of view about preserving only indispensable elements. « Everyone would like to slip hands in lion's mane! ». Wool, feathers, fur are inherent and key elements for the artist who attached them a considerable importance. This desire to slip our fingers in something foreign is revealed in an eloquent way in sculptures, as Valérie Courtet said: « Everyone wants to touch my sculptures ».
Affect is a necessary concept when we are facing her animal sculptures. They are often called by spectators as « intelligent » ; the appearance, the posture and the look are prevailing elements for spectators and for the sculptor herself. The symbiosis between the animal's look, functioning as a human mirror, but also the apparent relief and their color transcribes Valérie Courtet's artistic thought.
This search of tenderness in finish and forms is contrasted by a deeper reflection of the artist, who sees her creations as an homage to animals liable to extinction. Like rhinos carved with fineness and dexterity, an activist and disillusioned facet is expressed. In this expiring fauna, Valérie Courtet's artistic expression invites us to start questioning, to humility and above all, to tenderness.